Back to Exhibitors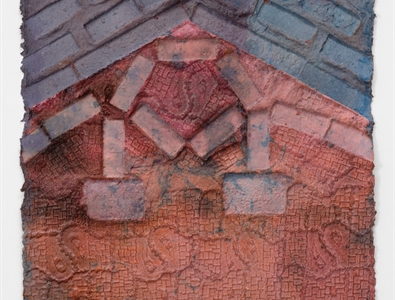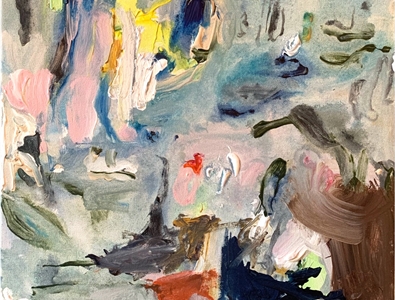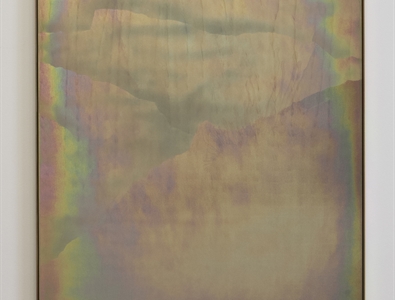 OCHI
Los Angeles, Ketchum
OCHI is pleased to participate in the Dallas Art Fair to take place April 21st through 24th, 2022 at the Fashion Industry Gallery in the revitalized downtown Arts District of Dallas, Texas, featuring new works by Aryana Minai, b chehayeb, and Devin Farrand. Working through a deconstruction of material, form, and language these artists forge new visual and cognitive paths on their journeys to understand the nuance of identity.
Aryana Minai (b. 1994, Los Angeles, CA) makes paper-based sculptures and wall works that are intimately linked to philosophies and histories of architecture, migration, labor, the body, and the handmade. Minai identifies paper as a material that links storytelling, tradition, and craft, centering her practice on the diasporic subject's daily lived experiences as she draws from her personal archive of decontextualized Iranian-American content. The architectural quality of Minai's works embody a lived survival instinct—to preserve historic space and inhabit safe spaces—as well as an interest in what salvaged and saved materials can teach us. Using bricks and stones from buildings that no longer exist, woodblocks used a generation ago to create textile patterns, parts of vernacular decorative architecture, Minai embosses into paper that she pulps from found materials in small batches in her studio. Minai envisions architecture as a living entity that continually sheds and acquires memories as bodies pass through its spaces. Minai received a BFA from Art Center College of Design in 2016, an MFA from Yale School of Art in 2020, and currently lives and works in Los Angeles, CA. Minai will have her first solo exhibition with OCHI in Los Angeles, CA in October 2022.
b chehayeb (b. 1990, Dallas, TX) makes paintings, prints, and drawings that focus on the reconstruction of failed memories, specifically memories warped by nostalgia, gender, language, and cultural hybridity. She received her MFA from the Massachusetts College of Art and Design in 2020 and her BFA in painting with studies in creative writing from the University of North Texas in 2013. chehayeb has been awarded residencies at Mass MoCA in North Adams, MA; the Vermont Studio Center in Johnson, VT; the Lower East Side Printshop in New York, NY; and most recently the Elizabeth Murray Artist Residency Award in Troy, NY. In addition to being a finalist for the Hopper Prize Grant, chehayeb was awarded a 2020 New York City Redbull Arts Microgrant. Her work has been featured in various publications including Hyperallergic, Glasstire, Maake Magazine, Art Maze Magazine, and The Hopper Prize Journal.
Devin Farrand (b.1986, Salem, Oregon) makes paintings and sculptures that use his extensive knowledge of industrial fabrication techniques as both form and content as he moves beyond minimalism and Finish Fetish to pay tribute to his family lineage and the history of sculpture. Farrand earned an MFA in Ceramics from the Cranbrook Academy of Art, a BS in Art from Eastern Oregon University, and currently lives and works between rural Idaho and Los Angeles, CA. Farrand's work has been exhibited nationally and internationally at venues including Ibid Gallery in Los Angeles, CA and London, United Kingdom; Good Weather Gallery in North Little Rock, AR; Gallery Vacancy in Shanghai, China; BBQLA in Los Angeles, CA; New Release Gallery in New York, NY; Gallery Kornfeld in Berlin, Germany; and Piasa in Paris, France. Farrand's work can be found in collections including the Burger Collection in Hong Kong, China; Sishang Art Museum in Beijing China; SoHo House in Malibu, CA; New Taipei City Yingge Ceramics Museum in Taiwan; Mercedes-Benz Financial Services in Farmington Hills, MI; Nightingale Gallery at Eastern Oregon University in La Grande, OR; Archie Bray Foundation in Helena, MT; and the Beth Rudin DeWoody Collection in West Palm Beach, FL.
Hana Ward (b. 1989, Los Angeles, CA) makes paintings and ceramic works that explore themes of identity, introspection, and transformation. Heavily influenced by post-colonial histories, fiction, and theory, as well as the canon of white art history and its long-reaching effects on minorities, Ward weaves together motives, moods, and narratives for each work often beginning with a flicker of a gesture or the ambiance created by a single color. Appearing both ethereal and altogether visceral, Ward's Black feminine figures possess a presence that is ambiguously compelling—wise with the knowledges of lived experience and ancestral inheritance, these protagonists reflect and dream. Ward presents these multitudinous nuanced visions of unfolding self-actualization sometimes sheltered in the solitude of domestic space and other times liberated into landscapes. Ward received a BA from Brown University in 2011 and currently lives and works in Los Angeles, CA. Ward's work has recently been exhibited at venues including OCHI, Los Angeles, CA; Mrs. Gallery, Maspeth, Queens; Los Angeles Contemporary Exhibitions, Los Angeles, CA; Harun Gallery, Leimert Park, CA; Beyond Baroque, Venice, CA; and Giant Robot, Oakland, CA. In 2017 Ward was awarded a Los Angeles Department of Cultural Affairs Artist-in-Residence Grant. Ward's work has been featured in publications including Artforum, The New York Times, Los Angeles Times, Financial Times, Amadeus, Artillery Magazine, and AUTRE, and was featured in the Voices on Art Podcast in conjunction with Independent Art Fair. Ward is represented by OCHI in Los Angeles, CA and Sun Valley, ID.
Featuring Works By:
b chehayeb
Aryana Minai
Devin Farrand
Hana Ward
3301 West Washington Boulevard
Los Angeles CA 90018
119 Lewis St
Ketchum ID 83340